Scheduled
Events
News
Our Lady of the Waves R.C. Church Hall, Westgate, Dunbar
Map
7pm, Sunday, August 18th
Our Lady of the Waves R.C. Church Hall, Westgate, Dunbar
Tickets*, £8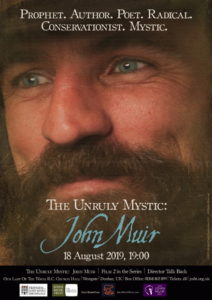 Friends of John Muir's Birthplace is proud to host the Dunbar premiere of a new feature documentary on John Muir. Independent filmmaker Michael M. Conti will attend the screening of his film for an audience Q&A about the man often hailed as the founder of the world's first national park system.
This beautifully photographed film explores the remarkable life and influential works of a patron saint of environmental activism. Against a backdrop of some of North America's most exquisite scenery, the documentary considers the connection between nature and spirituality, using the life and wisdom of John Muir – ecological preservationist and founder of Yosemite National Park – to explore how being outside in nature affects the lives of everyday people right now.
Michael is sauntering along the John Muir Way in the week leading up to the screening in Dunbar and he will be documenting this experience via social media – www.facebook.com/johnmuirmovie/.
* Tickets are available at John Muir's Birthplace during its normal hours of opening or Our Lady of The Waves R.C. Church hall just prior to the screening.