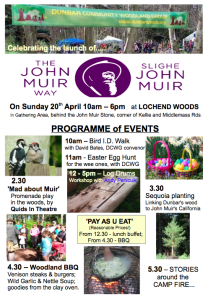 Dunbar Community Woodland Group is embracing the spirit of Dunbar's most famous son on Sunday 20th April and are gearing up for a day of JM fun in the woods!
10am – Bird identity walk with David Bates, DCWG convenor
11am – Easter Egg Hunt for the wee ones – with DCWG
12 – 5pm – Log Drum workshop with Andy Penicuik
12.30pm – Food/lunch, setting fire in the clay oven and the camp-fire
2.30pm – 'Mad about Muir', a promenade play in the woods, by Quids In theatre
3.30pm – planting of a sequoia tree, and wild flowers too
4.30pm – Woodland Barbecue – pay as you eat: venison steaks, venison burgers, wild garlic and nettle soup, baked goodies from the clay oven
5.30pm – story telling around the camp fire
Most events will take place at the Gathering Space near the corner of Kellie/Middlemas Road. All Welcome.
More details at the Lochend Woods website.