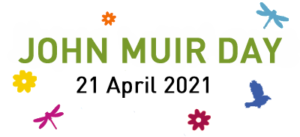 It is nearing the end of a beautiful sunny day in Dunbar and it's time to take stock of all the #JohnMuirDay activity on social media.
The John Muir Trust (JMT) has been actively promoting this opportunity to ask the following question on their Modern motivators celebrated during #JohnMuirDay 2021 page:
Who inspires you to take action for nature? Share your stories on social media and help us celebrate #JohnMuirDay (21 April)
A number of people have had their video testimonials shared to the JMT page. Many more have shared their thoughts on social media using the #JohnMuirDay hashtag.
Unsurprisingly, much of the social media activity has centred on Muir himself and the fact that his legacy continues to inspire people. There are literally hundreds, if not thousands, of posts that celebrate #JohnMuirDay and thousands more that have engaged with these by liking and sharing them.
Although John Muir is an inspiration, as you would expect, for the John Muir, Earth-Planet, Universe (JMEPU) exhibition that Friends of John Muir's Birthplace produced in 2020, other 'motivators' were included as more modern examples. These included: Greta Thunberg, Sir David Attenborough, Aldo Leopold, Rachel Carson and Wangari Maathai. This exhibition has also been one of the catalysts for engaging and motivating many people and community groups locally and this gives hope for the future.
One more thing…
Another reason for celebration this #JohnMuirDay is the fact that the go-ahead for the production of the JMEPU panels suitable for installation in John Muir's Birthplace took place this morning. This means that the exhibition will be in place in time for the re-opening of JMB on May 5th 2021.